The Fault in Our Stars: Six things author John Green learned on the first day of shooting the TFIOS film
Get link

Facebook

Twitter

Pinterest

Email

Other Apps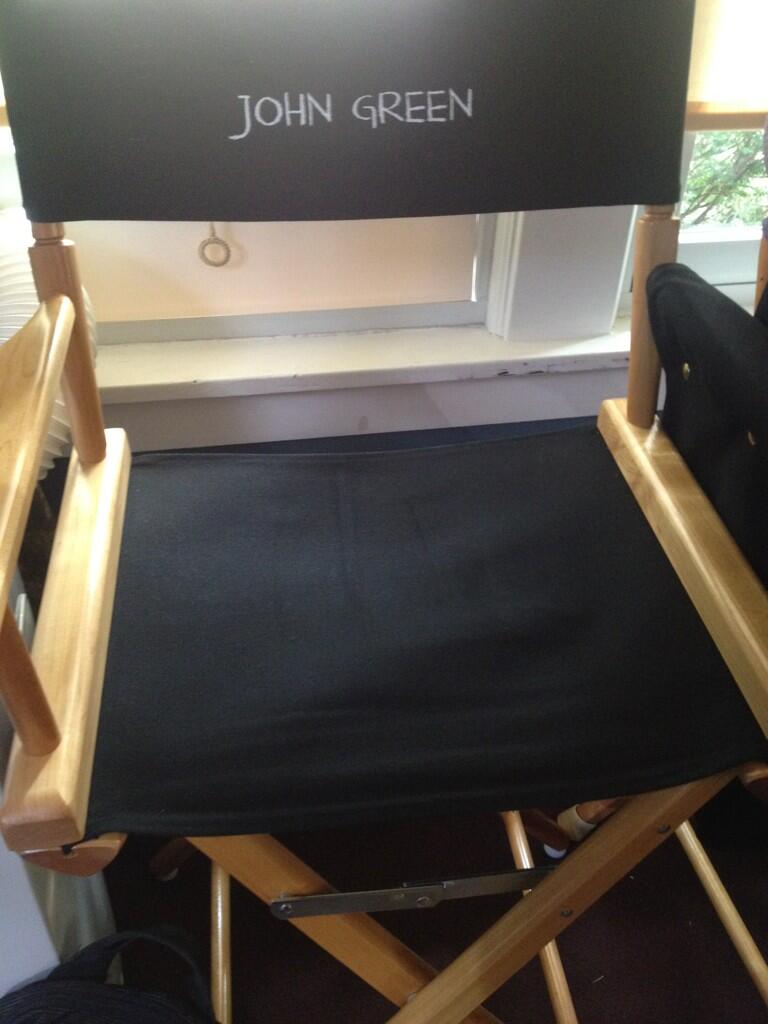 Day One of The Fault in Our Stars shooting has wrapped and author John Green, on set for the first week of filming is having an amazing time. He's tweeting pictures of his own 'director's chair' emblazoned with his name and sharing that he had a good cry with "Shai" and Laura Dern.
Just had a good cry with Shai and the wonderful Laura Dern. One of these days I'll make it to noon before weeping, but not today.
Here's what author John Green told
TFIOS net
; a great source if you want to check in with the drama on a daily basis as they'll be following the film every step of the way.
"S

o The Fault in Our Stars movie started shooting today, which is amazing—so amazing, in fact, that I used the word amazing somewhere in the neighborhood of 41,000 times. Like:
1. It is amazing how many people are working on the movie, and how professional and organized they all are. There are like 100 people or something! It's all amazingly efficient, and yet…
2. It's amazing how much work goes into every single shot. These people work 12+ hours per day, and shoot at most a few scenes per day.
3. It's amazing to watch good actors work, particularly young actors like Shailene and Ansel. How do they bring such nuance and depth to a performance? How can they understand these characters so deeply? It seems a little like wizardry to me.
4. The commitment to detail is amazing. I can't wait until the movie comes out and I can be like, "LOOK AT [spoiler redacted]" and "DID YOU NOTICE THAT [spoiler redacted] IN HAZEL'S ROOM?"
5. It's amazing how beautiful it all looks. Without getting into spoilers, the visual look of the movie—from the actors to the sets to the light—is very similar to a lot of what I imagined while writing, which is this very weird experience of feeling like your imagination has actually become visible. This is a very weird experience; maybe analogous to hallucination?
6. It's amazing to think that the right people have come together at the right time with a very real shared passion for this story. I don't know whether I have luck or providence to thank, but I am very grateful.
"
To read more about The Fault in Our Stars go to

The TFiOS FiLE

where I'm keeping all my own TFiOS posts.
Get link

Facebook

Twitter

Pinterest

Email

Other Apps